If the separation between church and state has gotten a little blurry in recent years, at least it's not NASCAR. Because the separation between church and pits done blowed up a long time ago.
A publisher that hawks books on Scientology is sponsoring a driver on NASCAR's late-model weekly circuit in California. Great. I figure it's only a matter of time before other religions jump into the water (holy or otherwise).
I just want to be there when the Havoline/Nation of Islam Chevy rolls into Talladega.
You think it's nasty when Tony Stewart and Kurt Busch slam fenders? What's going to happen when the Israel and Hamas-sponsored Dodges come barreling out of turn two?
I look down the pavement and see the Roman Catholic Church/Hickory Hams Ford. I see Scientologists, Jews, Jews for Jesus, Hari Krishnas (cool paint job), Methodists, Baptists, Southern Baptists, North-by-Northwest Baptists and Episcopalians. I possibly see Agnostics, but they're leaving their options open. I see them swapping paint in the grand daddy of all points races. Just gimme that Old Time Religion 500.


Interesting ideas, though I am well pleased that we will not see any Vatican sponsored cars anytime soon. Though I also kind of like the idea of seeing the Pope and pictures of the saints plastered all over the body of NASCAR sponsored car. At pit stops they could quickly refill the driver's Holy Water bottle with one of those multi-gallon containers designed for quick refueling. The air bag could be filled with incense. Included of course would be a group of contemplative nuns praying for God's will to be done in the race and for the souls of those who have died on the track. With the truth of the Church's stance on contraceptives you know that the car would really burn rubber or destroy prophylactics by other measures. The car of course would have to have #33 in honor of the traditional age of which Jesus died. What could be more POD than a NASCAR with a Rosary hanging from the rear view mirror?
If John Paul II had ever taken up racing he would definitely have had the Pole position at of course the most famou of races – the Grand Priest.
Of course one of my old posts described what the Virgin Mary would race in.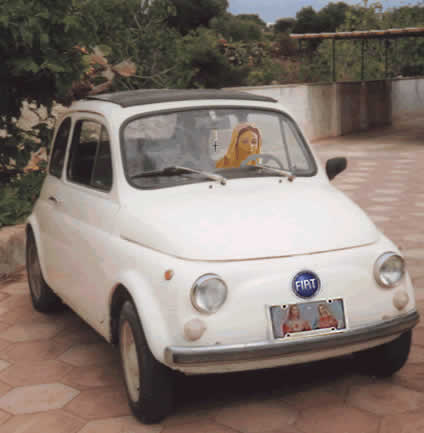 Mary's Fiat.