I feel funnier just linking to posts from Eye of the tiber
Müller To Build Vatican II Theme Park
Makes me ponder on what if there really was a Vatican or other Catholic theme park? Holy Roller Coasters?
Now I know marianland bills itself as a Catholic Theme Park. But really a replica of Medjugorje?
I really want to see an animatronic Hall of Popes.
I believe DanteLand or Dante World would be rather awesome. Dante's nine circles of Hell would put those Protestant "Hell Houses" to shame. Tour guides would act and dress like the Roman poet Virgil.
Purgatory could be just like the "It's a small world" ride. You are forced to listen to that song and go round and round the ride until you have been expiated of all your attachment to sin. Perhaps nothing quite so cruel. I do like the idea of a "It's a small world" ride where you see examples of Catholics around the world practicing their faith. The universality of the Church does make for something pretty cool.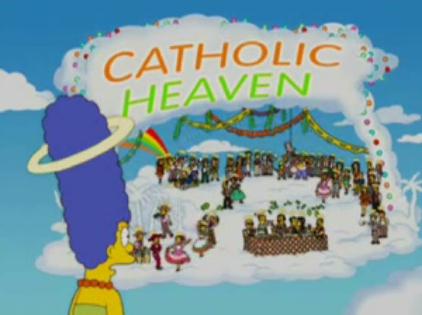 Plus I think the version of Catholic Heaven envisioned in The Simpsons would be really fun as an attraction.
Now what attractions could the Vatican build for progressives? Oh I know – labyrinths since they so love them. Really really complicated labyrinths that take years for them to find their way out. Kind of like the Hotel California "You can check-out any time you like, But you can never leave!" Or maybe fun house mirrors. Well maybe not since they so distort Catholic teaching everything might look normal to them.
Perhaps you can think up an even better ride/theme?