Via Amy Welborn is this column by Patrick Hynes and Jeremy Lott in USA Today:
It must be rough. Even so, we think Christian conservatives should take solace in the fact that most of their critics don't mean a word of it.
As proof, we offer Exhibit A: the religious left. No comparable group of political activists has received as much news media attention since the last election.
According to the Pew Forum on Religion & Public Life, religious lefties are about 7% of the electorate. They are called on regularly by Democratic politicians seeking to win over values voters.
What's interesting is that leaders of the religious left have not been hit with a similar and constant charge of "theocracy." This despite the fact that religious lefties articulate public policy positions in the context of the Bible and frame their political entreaties in the moral "values" language we are accustomed to hearing from Christian conservatives.
Now my question is would it be possible to tell a religious left theocracy from a secular influenced government? Besides if there is a impending theocracy then why aren't religious conservative positively upbeat instead of being quite pessimistic on the direction of the government in general? Why aren't there cries of atheocracy instead. With groups like the ACLU and the People For the American Way trying to scrub all reference to religion and religious symbols from public life. Are Nativity scenes being removed a sign of an impending theocracy? Is a judicial nominee being attacked for having 'deeply held' Catholic beliefs a sign of an impending theocracy.
The August/September issue of First Things had a reviews of a slew of books on theocracy.
Steven Riddle recently reviewed Damon Linker's The Theocons. Steven is quite a charitable writer in general and he tries his best with this review.
Update: In an interesting development Commonweal reviews Linker's book and as Steve Dilliard noticed they ripped it.
I think this cartoon I created spells out my view on the subject.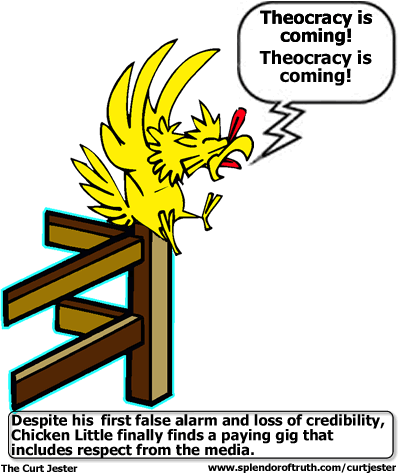 *Art derived from multiple clipart at Clipartheaven.com
I also previously created a new board game Theopoly.