Fed up with the Intifada? Need to duck out of Fallujah
for a little summer vacation? Tired from all that tunnel digging? Come
to the Ramadan Inn.
Are you tired of checking into hotels that place a Bible in your room,
a decadent Western mint on your pillow, and a mini-bar stocked with alcohol,
the key to every evil? Then check into the hotel that caters to the radical
Muslim taste. Locations available in all major cities in Canada and the
United
States and opening soon in Tora Bora. We offer much better accoutrements
than the temporary lodgings that Saddam Hussien used. If only he had known
about our special hideaway room rates.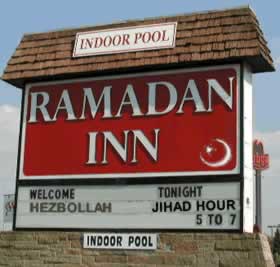 Rooms Include:
Each room comes standard with a copy of the Koran and "The Protocols
of the Elders of Zion."
Cable television with a 133 channels of Al Jazeer. Must see Jihad TV.
Mini-Bomb Bar with all the components required for making bombs.
*Customers are responsible for paying on check out any fuses, plastic explosive,
etc used.
Inspiration portraits of Bin Laden, Yasser Arafat, and other great leaders
like Jacques Chirac.
Donald Rumsfeld dart board.
Steel reinforced bathrooms for those unfortunate accidents when mixing
chemicals in the bath tub.
Some of our special services include:
Local directory of Al-Qaeda sleeper cells.
Five times daily as-salah is announced on the Public Address system.
Prayer rugs dry cleaned and returned in a timely fashion (loaners available).
Modern Media Center:
The latest in modern technology for all your special needs.
Beheading video web-cast center.
Complimentary head bags for you brave revolutionaries to hide your head
in.
Undisclosed location backdrops for threatening video tapes.
BIn Laden voice synthesis machine to make high-quality audio tapes to
pass to Al Jazeer and fool CIA analysts.
Honeymoon Suite:
Interconnected rooms for each wife.
Windows painted black to keep your wife from concerning herself with
the outside world.
*Surcharge for each additional wife or apply for a group rate for four
wives.
Suicide Bomber Suite*
Before going out with a bang why not indulge yourself in one of our
luxurious rooms.
Please check in any suicide belts into our hotel safe in the lobby.
Otherwise room service will not be available.
*Payment required in full prior to checking into room. Cash or Credit
card only.
Thanks to RC of Catholic Light for
sending this suggestion for a spoof. I had previously thought up Ramadan Inn
in a random
thoughts post, but RC provided inspiration for this satire.