Dawn Eden tipped me off to San Francisco's Planned Parenthood page that includes this offer
DID YOU KNOW?
You can win an iPod!
Come in for an appointment at any of our 8 health centers before April 30th and enter to win an iPod.
Make an appointment today!
Dawn wondered about what just might be on their iPod and what it might look like. Well I did some digging around and found this about to be released ad.
Introducing the iPPod!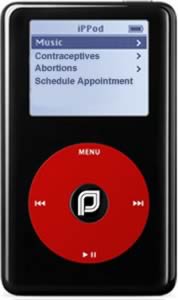 Because sex, abortafacient drugs and Rock n' Roll have always gone together and why not get the one device that has them all.
Not only does the iPPod have room for all your music but much much more! This special edition iPPod comes in funeral black along with a blood red spin dial. And if any organization knows how to do spin right it is us.
You will love our unique features like our foreplaylists where you can create lists of your favorite songs to have safe sex to! Create personalize foreplaylists for each of your multiple partners. You can even tag songs so you remember what is considered your favorite song as a couple. These can be untagged when you move on or keep multiple lists so that you always remember that special song for all of your special partners.
Plus you get many preloaded songs to get you started. Groups like The Killers and Run-D&E and thousands of rock standards and new versions like:
Johnny Don't B. Goode
Sympathy For The Devil
Every Babies Breath You Take
Great Balls of Fire (An ode to STDs)
The Sounds Of Silence (46,000,000 fetuses)
Losing My Religion
Highway to Hell
Not Like a Virgin
Killing Me Softly With His Scalpel
Don't Fear The Reaper
Love The One You're With
Young Lust
Rikki Don't Lose That Number to Planned Parenthood
You will get just about every sounds but ultrasounds!
Our navigation software has hundreds of choices because we know you're pro-choice. Choose what you want as long it is contraception and abortion. Options like choose life are disabled in this and future versions of the iPPod.
Now just these features alone make the iPPod an outstanding value. The iPPod comes with wireless capabilities so that you can order what you want from our online store iTerminate. If you are concerned about your privacy don't worry. Our iTerminate servers use SSL (Safe Sex Layer) a cryptographic system to keep your orders private.
For men order the condoms you need and track their use. When your supplies start to run low the iPPod will beep to remind you to order more. For you men with special needs we also stock the Condom Nano. For women the iPPod will give you a friendly daily reminder to use your birth control pill and will also remind you when it is time to order more through iTerminate. A special compartment built into the back of your iPPod can be used to store your safe sex supplies.
And if one of those annoying problems like pregnancy occurs use the Schedule Appointment menu option to schedule an appointment at a Planned Parenthood clinic near you. There are locations available everywhere, especially if you live in a minority neighborhood. You will be in and out in no time and with every abortion get a gift certificate for ten free songs from iTerminate!
Whether you're an adult, teenager, or pre-teen we make the iPPod available for everyone. Just like our Teenwire site you don't even have have to be a teen to use it.
So choose the iPPod while we still have a 5-4 majority on the court.*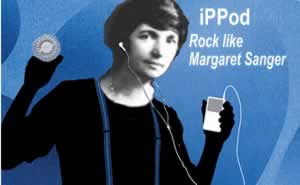 *Offer not currently available in South Dakota, but we will soon take care of that problem.