A reader pointed me to this Resurrection Crucifix at Emmaus Catholic Church in Lakeway , Texas. A friend of his had dubbed it "Mermaid Jesus."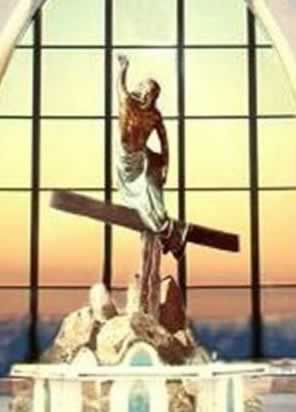 It is rather odd and it looks like the cross is slowly sinking into the ground and that Jesus had to climb on top to avoid touching the ground.
In my own diocese in the two parishes closest to me, at one time had only resurrection Jesus'. Sometime after our new Bishop was installed these figures were retrofitted. In one Church you can see the outline of the previous embedded cross underneath the newer crucifix. In the other Church I believe they added a crucified Jesus onto the previous one. When they moved into the newer church I carried the presider chair over to the new location. I was curious to see the interior of the new Church. I was not a happy camper. Besides the now mandatory olympic sized font, the tabernacle was was placed off to the side behind some columns. The tabernacle at that time looked like it was made of Bakelite and very plain in a 1920s Bakelite look. They have since replaced the tabernacle with one that was much more fitting. I am pretty sure that the Crucified figure of Christ was added later and is shown in the picture below.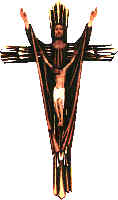 The newer crucifix creeps me out. Jesus being crucified on Jesus seems strange. St. Paul said "I am Crucified with Christ." In this case Christ is crucified with Christ. I normally don't go to either of these parishes since they really lay the contemporary music on with guitars, electric bass, drums, tambourines, maracas; and of course neither Church has an organ. To me this is liturgy set on stun.
Attached to one of the previously mentioned parishes is a new school building. At the front of the building in large letters is 2001 C.E. I almost tripped when I saw that. A Church school building using Common Era (C.E.) instead of Anno Domini (A.D.) is just bizarre.