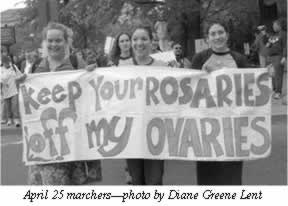 I find this picture from the March for Women's Lives Lies interesting. That these protesters would be concerned about people praying the Rosary to end abortion. Of course mainly this is a slam towards the Catholic Church. I am glad that so many people realize that it is the Catholic Church which is the main foe of the attitude and agenda of these marchers. Besides George Bush many of the signs also attacked the Holy Father.
Seeing this sign and these protesters only reminds me to pray a Rosary for these women and women like them. Probably not the reaction they intended, but I hope it is the reaction of many Catholics seeing this.
On a more humorous side. I can't think of any possible prayer position or circumstance where my Rosary might encounter their ovaries. In fact I don't want to imagine any such circumstances.