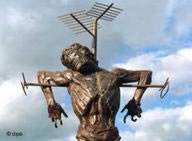 The latter crosses the line for some congregations, who are not willing to
see Christ on a cross, with antennae sticking out here and there. The mayor
of Schwabhausen, in deeply Catholic Bavaria, has come out against such an antenna
in his village church. Mobile phone companies are hesitant as well.
"The churches actually don't like it so much," said
Susanne Satzer-Spree, a Vodafone spokeswoman.
However, some houses of worship have managed to make their masts part of their
identity.
"Everyone recognizes the church now," said
Johannes de Fallois, pastor at a church in Neuburg.
[Full
Article][Via Annunciations]
With the jutting antenna this kind of reminds me of a hi-tech
Byzantine Cross gone awry. With the arms the way they are shown it looks more
like Jesus is kicking back leaning on the antenna and draping his arms over
it than him being crucified.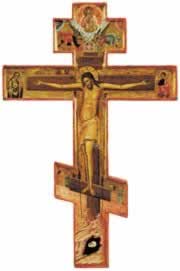 I do not think that when the Church talks about the discipline
of mandatory celibacy for clergy that they meant cell-abacy for crucifixes.
I could just imagine St. Paul walking all over the Middle East and Europe saying "Can
you hear me now?" I guess we can be thankful that they didn't have modern
technology then. It would really be difficult to meditate on Sacred Text Messaging
or would it be Sacred Messaging Scripture (SMS).
A readN of a letta frm St. Paul 2 D Galatians
Response: thx B 2 God
Paul an apostle — nt frm men nor thru mn, bt thru JC n God D
dad, hu raised him frm D ded — n ll D brethrN hu r W me, 2 D churches of Galatia:
Grace TU n peace frm God D dad n r Lord Gsus Christ, hu gave
himself 4 r sins 2 delivA us frm D presnt >:) age, accrdng 2 D wl of r God
n dad; 2 whom B D glory 4ever n evr. Amen.
And the words of consecration:
nw as dey wr e@tiN, Gsus t%k bread, n blessed, n broK it,
n gave it 2 D disciples
n z, "Take, e@; dis S my bod."