A commenter linked to this Methodist church website which has got to have the most ridiculous logo I have ever seen. A clown with arms outstretched in a fructified position is just too silly. I wonder if they require their congregation to have a circuscision prior to becoming members?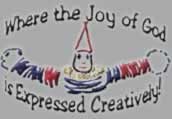 We are a welcoming all-inclusive congregation that….
Now even being inclusive is not enough it has to be all-inclusive. There is a liturgical dance group, Shehkinah ("The feminine face of God") Spiral women's discussion group, and the Busy Bees who make the "famous Clown Dolls." Of course as Catholics we can't laugh too hard because at least their pastor is not dressed in a clown suit. Though happily clown Masses seem to be on the downswing.
It does remind me of what I call Tharp's law. Fr. Shane Tharp from Catholic Ragemonkey left this in another post.
"For every one good Jesuit you encounter there are at least two celebrating a Clown Mass somewhere."