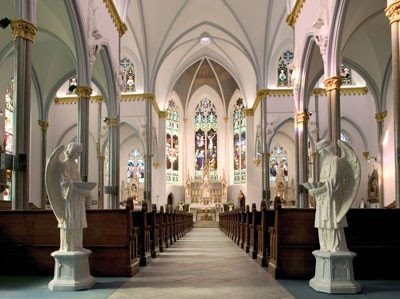 The oldest Catholic church in Jacksonville, and one of downtown's most historic structures, now has a new designation coming straight from Pope Francis in Rome.

Immaculate Conception Catholic Church, begun in 1853, has been named a Minor Basilica due to its unique historical, artistic and religious importance to its community. It becomes one of 77 Catholic churches in the United States and six in Florida to be honored with the designation.

The Rev. Ed Murphy announced the honor during Thursday's noon Mass in the towering white Kentucky limestone church. The church's last pastor, the late Rev. Antonio Leon, had first requested the designation eight years ago, but the paperwork had been lost, Murphy said.

Current Catholic Diocese of St. Augustine Bishop Felipe Estevez renewed the request in May with Rome's Congregation for Divine Worship and the Discipline of the Sacraments.

The official letter from the apostolic office in Rome arrived recently confirming the honor.

"The comments I have gotten is it was long in coming and this is a great compliment to this great parish," Murphy said. (source)
This is so cool, especially since this is the parish I came into the Church in.
I remember the late Fr. Leon telling me that reporters often assumed that this downtown church was the Cathedral for the diocese. The beauty of this church is evident to all.
This parish could easily have become just another downtown Catholic parish forced to close because of demographic shifts. Instead Fr. Leon in his 25 years of devotion and sacrifice to his flock in this parish prevented such an outcome. Part of his stewardship included providing a soup kitchen, book store, a major restoration of the church that enhanced its beauty, the TLM back to time of the initial indult, confession before every Mass, active third-order communities, just to name of few.
Thankfully Fr. Murphy is continuing in Fr. Leon's footsteps along with adding a Courage chapter.
Dating back to the late 1700s, St. Augustine's cathedral was designated a Minor Basilica on Dec. 4, 1976, by Pope Paul VI, at the time the 27th American church honored with the designation.

Immaculate Conception began as a small wooden church that became a victim of the Civil War in 1863 when Union soldiers looted and torched the building. A second church built at the same site was dedicated in 1871. But when the 1901 fire destroyed much of downtown Jacksonville, it also gutted the second church.

The current church, with stained-glass windows made in Munich, Germany, was opened in 1910. At the time the tallest building in downtown, about 800 registered families attend services there now.

To receive the designation of a minor basilica, a church must be a center of active and pastoral liturgy with a vibrant Catholic community. In a news release issued Thursday, Estevez said Immaculate Conception was granted this designation because of its "historical and spiritual significance to the Diocese of St. Augustine and its worthiness of art and architecture."