In a spirited retort to the Vatican, a group of Roman Catholic nuns is planning a bus trip across nine states this month, stopping at homeless shelters, food pantries, schools and health care facilities run by nuns to highlight their work with the nation's poor and disenfranchised.
Because the whole reason the Congregation for the Doctrine of the Faith is investigating the LCWR is because of their work with the poor. You know how much the Vatican hates nuns and sisters working with the poor and providing healthcare. The beatification of Blessed Mother Teresa was a close thing because the CDF objected to her work with the poor and the healthcare her order provided. Once the Vatican hears about consecrated religious opening up food pantries they immediately get put on the inquisition list.
Now if these consecrated women religious really wanted to plan a bus trip that was more symbolic of the LCWR they would also stop off at a the Women's Ordination Conference, a Reiki Training Center, a provide advice that helps religious leave their orders and start non-canonical ones taking the properly along (yes the LCWR actually did this), go to and abortion clinics and pray for choice.
Or how about instead of complaining about crackdowns and whining about the hierarchy they actually helped address the actual problems. While they do indeed do many good works, it does not mean that dissent and bad works become acceptable. We are all called to holiness and have to admit and repent of our faults.
I haven't been able to confirm this, though I think this is the bus they will be using.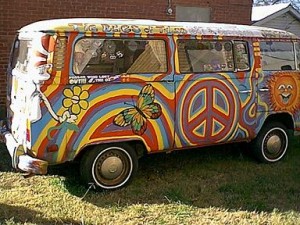 "We're doing this because these are life issues," said Sister Simone Campbell, executive director of Network, a liberal social justice lobby in Washington. "And by lifting up the work of Catholic sisters, we will demonstrate the very programs and services that will be decimated by the House budget." (Source)
Use the same NETWORK that supported pro-abortion Obamacare and is not outraged at all by the HHS Mandate. Obamacare directly led to forced funding of abortion-inducing drugs. For NETWORK federal funding for social programs is mandatory, and the unborn can be sacrificed to the federal altar. What is being 'decimated" is the unborn.