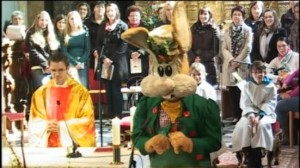 From a "Family Mass" on Easter Sunday in the Hartberg Catholic Parish of the Diocese of Graz-Seckau in Austria, the Easter Bunny reads the prayers of the faithful. [Source and Video]
I am quite shocked by this.  Plainly the prayers of the faithful are suppose to be said behind the ambo.
Lectionary No. 31: "For the prayer of the faithful the celebrant presides at the chair and the intentions are announced at the ambo. The assembled congregation takes part in the prayer of the faithful while standing and by saying or singing a common response after each intention or by silent prayer."
How can a parish even in Austria get so loose with the rules?
Lectionary No. 30: "…a deacon, another minister, or some of the faithful may propose intentions that are short and phrased with a measure of freedom."
Out of charity I assume this Easter Bunny is one of the faithful and not a heretic bunny or is that Hare-a-tic bunny?  Photographic proof shows that this is not just Hare-say. Though I must complain about the bunnies costume as surely that is not a traditional Hare Shirt.
No doubt my atheist commenter will mention that there is no difference between belief in the Easter Bunny and Jesus.
Hat Tip Rorate Caeli