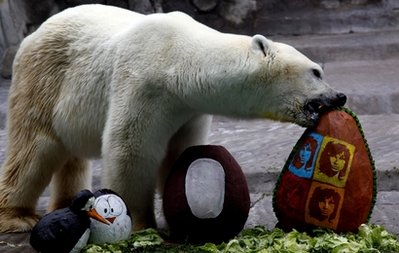 A polar bear breaks a decorated Easter eggs with food inside at the zoo in Buenos Aires, Argentina, Thursday, April 21, 2011. (AP Photo/Natacha Pisarenko)
Because for the AP and apparently the Buenos Aires zoo nothing screams Easter like a polar bear eating an Easter Egg decorated with the iconic album cover picturing Jim Morrison.  If there were "riders on the storm", Jesus would calm the story.  He did not have to break on through to the other side, but came from the other side to save us.  There is no limit to Jesus' love for use and does not limit it to "love me two times."  You can visit Jim Morrison grave at the Parisian cemetery Pere-Lachaise, Jesus' tomb remains empty so that we might not be empty but filled with love.
Well maybe the reason they picked this egg for the polar bear is that Jesus and Jim Morrison were polar opposites.
Hat tip: Right Wing News