Reasonable since 1963? Yeah you didn't want to deal with American Atheists before that date when they were unreasonable.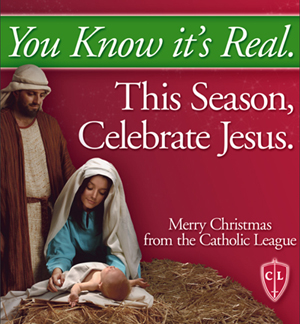 Now I like the Catholic Leagues response billboard, but it could have been better.  I would have addressed the topic of reason.
Jesus is the Reason for the Season and you can KNOW him via REASON.
The atheist's thrust of celebrating reason and almost making an idol of it is that the atheistic worldview can not even account for reason or knowledge. To reduce the world to only the material and our actions to material processes and our thoughts the result of electrochemical processes utterly fails in relating to reality. Many atheists even deny free will and then will argue with you to change your mind in a failure to see the irony. The world is intelligible because there was an intelligence behind it. Reason if anything is evidence for the existence of God.
This atheistic worldview which denies the possibility that believers are using reason to come to their view is what causes them to create sneering billboards with the smarmy attitude "We use reason!!!" Theology as "faith seeking understanding" does not fit their universe of believers and stereotype of "blind faith."