The capybara kap-i-'bar-uh, hydrochoerus hydrochaeris, is a semi-aquatic rodent of South and Central America. It is the only species in its genus, which belongs to the family Hydrochoeridae, order Rodentia.
When the Spanish missionaries found the capybara in Brazil during the 16th century, they wrote to the Pope to ask – there's an animal here that's scaly but also hairy, spends most of its time in the water but occasionally comes on land; can we classify it as a fish (and thus, the indigenous people could continue to eat it during Lent)?. Not having a clear description of the animal (and not wanting the petitioners to starve), the Pope agreed and declared it to be a fish.
Jimmy Akin has a good roundup of Lenten information.
Jimmy also has the guidelines for fasting from the Code of Canon Law.
I have also changed one of my top graphics to this.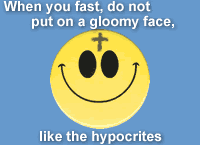 Marcel LeJeune also has a solid Lenten FAQ.
Earlier this week I noticed the most ironic Facebook group ever. Giving up Facebook for Lent. Now I am not giving up blogging/social networking during Lent. I am giving up real world friends for lent instead.
I have an impressive list of things I am giving up for Lent to cure my pride. No doubt more impressive than yours.
I pray that all my readers will have grown closer to Christ by the end of Lent. Please pray that I will do likewise.