A reader sent me information about St.
George Parish in Baton
Rouge and Dexter. Now you might ask who is Dexter?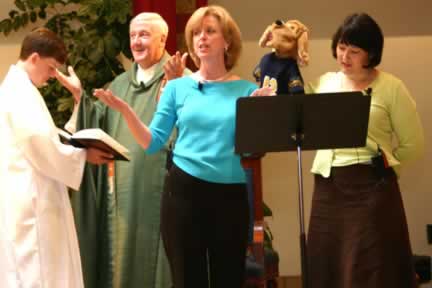 You guessed it. Dexter is the
lovable Puppet Dog that is used to explain the Mass and they stop the
Mass for Dexter to weigh in.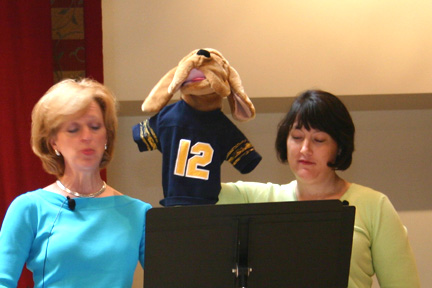 The Children's puppet Masses (two words I
hate putting together) are suppose to be so popular that for one
weekend all Masses will include Dexter the Puppet Dog – at least I
think it is a dog. Do not give what is holy to dogs, unless they are a puppet dog. But hey it must be alright because he has
a cool 12 on his shirt which is so scripturally based. Now
maybe in some wild way you can attempt to justify this for a children's
Mass, but for all Masses during a weekend? Hey let us get
purple dinosaurs as altar-dinos because wow wouldn't that be fun and
the children would love it. They could sing little songs
explaining what they are doing. Besides what's the limit as
long as children are learning something? Besides isn't the
combination of Mass and puppet – Muppet.
Now puppets used as a teaching tool are
probably a great idea if used in for example the parish hall, but
puppetry and Calvary are a non-starter. Now I grew up in
children's theater and my father was both an actor and a puppeteer and
I got to help him out at times. So I don't have
puppetphobia and think in the right setting an explanation of the Mass
using puppets for children could be useful, but not during Mass.
Tommorow is the feast day for Saint John Bosco who was a
juggler, magician, and acrobat and used these skills in his
evangelization effort with children – but does anybody seriously think
that he would ever have considred doing this during Mass? I
think the is more likely have turned his dog Grigio on any puppets
trying to appear at Mass.
My reader informs me that they
have it on good authority that the Bishop of Baton Rouge knows about
this and has no problem with its continued use.
I am starting to wonder if Louisiana is
now the headquarters of the Puppet Mass since a Fr. Sweet in Shreveport
is a ventriloquist who does Mass with his puppet Charlie. I
assume In Persona Puppet.
Update via a commenter:
You say "the Bishop of Baton Rouge knows about this and has no problem with its continued use". But in fact the pastor was told the day after this occurred (some weeks ago, well before advent) by the chancery that it was not okay, and that it was never to happen again…the bishop's office was NOT okay with it. Apparently this was the idea of a lay ministry coordinator who doesn't know much about liturgy at all. The pastor and associate pastor (not to mention most of the parishioners, who were quite properly aghast) were very uncomfortable with it.
Update: People who defend this are blind. First, as a parishioner at this particular parish I'd like to correct some facts. Fr. Mike, our pastor, came to us in November of 2005 so he just celebrated his second anniversary as Pastor. Also, this puppet mass never happened before Fr. Mike was pastor. Last year was the first year this ocurred and this year was the second. It was after this year's Mass that it was announced that all Masses on one weekend would be puppet masses because of the "popularity." While some of us are truly outraged to make it look like this has been going on for many years and that the Pastor is trying to weed this stuff out is false. Such things as this, liturgical dance, and other abuses continue to be a problem in our parish and it seems that everyone wants to turn a blind eye.