"Praise dancing is a ministry," says 17-year-old Ariana Starks at a recent Saturday morning practice at St. James, where she shimmied her shoulders to vibrant gospel music. "Most young people go to church and find it boring. This is a way to attract people into the house of God who wouldn't normally want to come."
In recent years, dance clothing stores and mail-order catalogs have begun selling praise-dance garments and props. Praise-dance Web sites are popping up, churches are hosting praise-dance concerts and conferences, and dance studios are offering classes.
Dance worship, or dance ministry, involves prayer movement, sacred dance and liturgical dance. It has a wide range of interpretations depending on the church and the denomination.
Give me reverence over relevance anytime.
…"The Catholic Church has been somewhat more resistant to liturgical dance," says Susan Olsen, director of liturgy and music at Holy Family Parish in San Jose, which regularly incorporates dance into its Masses. "There are still some conservatives who wish we were still praying in Latin, and some who really want to keep the liturgy simpler."
Resistant? How about outlawed.
NATIONAL CONFERENCE of CATHOLIC BISHOPS, all dancing, (ballet, children's gesture as dancing, the clown liturgy) are not permitted to be "introduced into liturgical celebrations of any kind whatever." [NATIONAL CONFERENCE OF CATHOLIC BISHOPS (BISHOPS' COMMITTEE on the LITURGY) NEWSLETTER. APRIL/MAY 1982.]
I have joked before that the only dance allowed is on Sundays and Holy Days of Obligation is attendance. Outside of the Mass then you can dance as you like. King David did not dance in the Temple during the sacrificial offering. He danced in joy outside of a liturgical celebration.
Here is something from a site referenced in this article that specializes in Christian dance.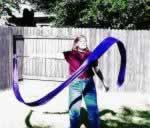 Give me pennants over penance! And for the brave of heart here is a Real Player movie of this.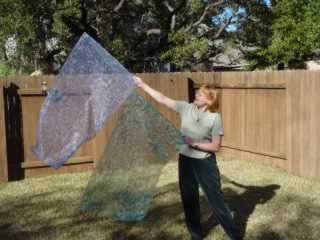 Now I was not a Signalman when I was in the Navy, but during Boot Camp we did have to learn something about the use of semaphore for signaling.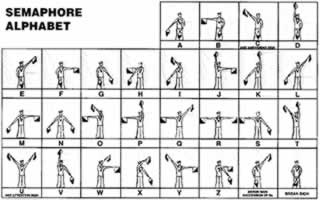 So using this I was able to translate the MPEG video shown here.
It as all about me, look at me here. Direct your attention on the dancers and their choreographed movements. My jumping around waving liturgical flags really makes you worship God more doesn't it. Go ahead and admit it. You are now really deep in prayer, praying that I will stop and leave the sanctuary.