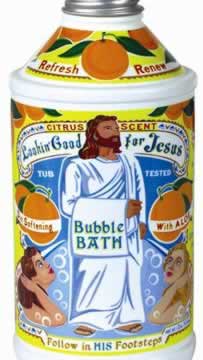 SINGAPORE (Reuters) – Want to use Jesus hand cream? Well, you can't anymore. At least not in Singapore.

A Singapore-based retailer pulled a line of cheeky Jesus branded cosmetics from its shelves after complaints from irate Catholics, the local newspaper reported on Tuesday.
The cosmetics, called "Lookin' Good for Jesus", is made by American makeup company Blue Q. It was sold in three Topshop outlets in Singapore.
Wing Tai Holdings, which manages the Topshop brand in the city-state, pulled the items off its shelves late last month after some customers complained, the Straits Times newspaper reported.
"We don't want to offend our customers," a company spokesman was quoted by the paper as saying.
Reuters could not get a comment from Wing Tai as its offices were closed for the Lunar New Year holiday.
…Some of the products sold include, a "virtuous vanilla" lip balm, hand and body cream and a mirrored Jesus statuette. They feature a drawing of Jesus flanked by two adoring women and carry slogans such as "Get tight with Christ", "Get His Attention" and "Redeem Your Reputation and More".

Here a product line that wasn't well thought out. The Jesus "Show me the money" wallet is certainly one of the strangest product combinations I have ever seen.
But Lookin' good for Jesus does not exactly fit "But the LORD said to Samuel, "Do not consider his appearance or his height, for I have rejected him. The LORD does not look at the things man looks at. Man looks at the outward appearance, but the LORD looks at the heart." Though if you really want to be "Lookin' good for Jesus" then the confessional is the perfect beauty salon. Even better in the confessional you don't need Jesus Bubble Bath to wash away your sins.
Reuters has a slideshow of the odd products.