I recently came across an older children's record player at a
garage sale that had a funky sixties feel to it along with what
appeared at first sight to be some psychedelic sixties records.
The record player was no longer functioning, but as
an old electronics technician and someone who tinkered with record
players as a kid, I soon had it working for the most part. When I tried playing the records I immediately realized that I got something miswired since it was playing backwards. Strangely though I though I was actually hearing coherent sentences. Looking more
closely at the two albums I was totally surprised that there were
actually two offerings of the St. Louis Jesuits from the seventies and
eighties. I soon had a good laugh as I realized that their music
sounded much better played backwards then forwards, but the smile went
away as I again heard more messages.
This reminded me of the old controversies in rock
music of embedded satanic messages of which I was always highly
skeptical of. After all most of the evil messages in rock music
were actually called lyrics and anything else would be overkill.
Backmasking is the audio technique in which sounds are recorded
backwards onto a
track that is meant to be played forwards. Backmasking is a deliberate
process and is related to so-called subliminal messages in rock music. I started to wonder if actually a technique like backmasking was
really used in the original albums that became the main stay for so
much contemporary music used in most Catholic Masses in the United
States and elsewhere.
I replayed the records backwards and transcribed
what I was hearing onto paper. Now some of it was rather strange
such as the repeated phrase "St. Paul is dead…", surely we all know
Paul is dead so I didn't exactly understand the point of this
subliminal message. But other messages were quite shocking and
really explains so much of what has happened with worship in the Mass
with the introduction of this music to church musicians. Here are
just some examples of the disturbing messages I heard.
The Tabernacle would look so much better if placed in a small little side room.
Pantsuits are cool, habits are hot.
Pipe organs must be destroyed.
Peter, Paul, and Mary not St. Peter, St. Paul, and St. Mary.
Communion rails are a barrier to Jesus.
It's all about me, it's all about me, look at me (extracted from Here I am, Lord)
Gregorian Chant is an carcinogen.
The Spirit of Vatican II will set you free, never mind the text.
The highest expression of Church art is felt banners.
Catechesis, we don't need no stinkin' catechesis.
Conscience trumps Church teaching.
Catholic guilt is a psychological problem that is cured by discounting sin.
Marbles and sand belong in a Holy Water Font.
Now as in the case of rock music there were suppose
to be Satanic messages embedded withing. I didn't find anything
like that in these recordings, but something much worse.
Satan doesn't exist.
There is no Devil.
There is not Hell.
Yes, anti-Satanic messages which of course are much more dangerous.
All of this explains so much. The St. Louis Jesuits themselves
never originally intended there music for liturgical use, so exactly
how did it become such a major part of liturgical music? Was it the
popularity of these records that first got played a and listened to by
so many church musicians and by others involved in the Church that lead
to so many rapid changes in the first place? I think that this
might be a much more sane and charitable explanation to explain why
people dumped so rapidly centuries and centuries of liturgical music
and other traditions conducive to worship in favor of the banal.
But who was behind this in the first place? As much as I dislike
the music of the St. Louis Jesuits during the liturgy, were they the
ones behind this subversive plot? Since as I have mentioned there music was not originally intended for liturgical use I did some digging to find out just who inserted these messages. I finally found a photo from someone's Flicker page purporting to be from the various recording sessions from when they recorded their albums.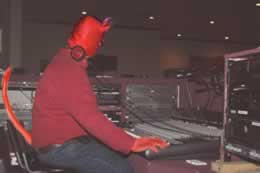 Could it be SATAN? Or one of his minions? I report, you decide.
The other question is are these subliminal messages found in the recordings of other modern liturgical artists? With Lent upcoming I was thinking of testing the work of Marty Haugen and David Haas, but my spiritual director said this would be too penitential.
* A tip of the Jester hat to the blogger at Sterquilinium for sending me a suggestion for a parody along these lines.