Gerald focuses on a project called "Find-Fight-Follow" in Austria which seems to be their equivalent of some Life Teen Masses but taken to the next level of culture trumping the Mass.
So go check out the pictures and what he has to says about it.
One of the pictures from one of their Masses did spark my interest and I thought I would let you know what it is all about.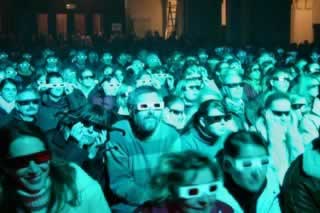 Introducing Sacrament-Vision! See the Holy Spirit descend and through the miracle of Transubstantiation© watch the constituent elements transform into the very Body and Blood of Christ! Watch adults being baptized and see all their sins washed away right before your eyes. Watch people coming out of the confessional with their professed and repented of sins vanished through one of the greatest sacramental special effects of forgiveness of sin. So if you are a Thomas and must place you fingers in the nail holes you will love Sacrament-Vision! If your parish must use fads and cultural phenomenon to bring people to Mass then Sacrament-Vision is for you. Though others might prefer the old system of sound catechesis on the Eucharist that enables the eyes of faith to come and adore Christ in the Most Holy Eucharist and to desire above all things to receive him in Communion.