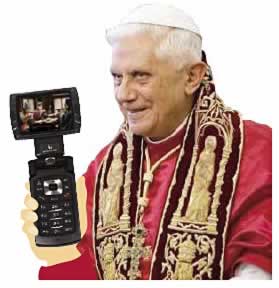 Pope Benedict XVI may watch TV with his cell phone late this year thanks to Korean-developed technology dubbed terrestrial digital multimedia broadcasting (DMB).
Domestic cellular phone producers, Samsung Electronics and LG Electronics, plan to provide 100 DMB-enabled handsets to the Vatican in time for President Roh Moo-hyun's visit to Rome next week.
The phones will be used as a broadcasting terminal late this year when the country's public broadcaster RAI TV launches terrestrial DMB with one video and eight audio channels.
"We plan to offer terrestrial DMB phones to the Roman Catholic Church when President Roh visits there during Feb. 14 to 16," an official at the Ministry of Information and Communication said.
"We hope terrestrial DMB will be able to gain toeholds in Italy and other European countries through this contribution by Samsung, LG and the ministry," he said.
The accompanying photo with the cartoon hand creeps me out a bit though. It is as if the Pope had escaped from Toontown in Who Framed Roger Rabbit.
Now I know the Pope has been seen at times in the halls of the Vatican with his iPod, but I seriously doubt if he would find any use for a cell phone with a TV.