Gerald has a real nice page up of newly built St. Stephen Catholic Church, where Fr. Stephanos acted as liturgical consultant.
Beautiful modern churches are rare. Certainly, there are quite a few beautiful "NEO" churches being built, but it certainly is important to develop a contemporary architectural style that, while drawing from the past, is not a mere carbon copy. I believe that Fr. Stephanos has succeeded wonderfully with "his" church.
This church is a good example of what can be done in a more modern context, but still retain beauty. I have seen some good examples of this in my own dioces with more modern churches that at the same time did not become iconoclastic. Though some built within the last ten years have fallen into the church-in-the-round minimalism that is a divorce from the past. Meeting halls with no soul.
I recently found a picture of my own parish on a Tridentine Mass site while searching for something else. The picture is fairly recent since it shows the restoration done last year.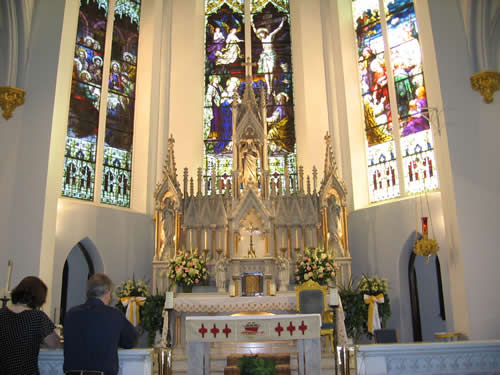 Though right now the stained glass windows are gone since they are being refurbished. No matter how often I go to my parish the interior once again hits me and reminds me why I am there. The whole church is directed towards worship and a reminder of the saints that went before us. My parish is also a liturgical oasis where I can easily leave at home my copy of Mass Confusion. In fact I sometimes go to other parishes just so I can commiserate with others over liturgical abuses.