I am not quite sure what is up logo for the next convention of the National Association of Pastoral Musicians.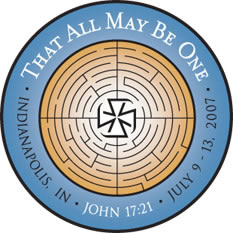 Now at first look you might think that this is a labyrinth which is currently so popular among progressive retreat houses. Now I know labyrinths have been used in Catholic meditation for a long time such as the one Cathedral of Chartres completed in the year 1200. Though I can't think of this there use ever being recommended by any saints or blesseds of the Church.
Regardless what is displayed in the logo is not a labyrinth. More properly it is a maze. As noted in Wikepedia "A labyrinth has an unambiguous through-route to the center and back and is not designed to be difficult to navigate." The logo above has paths that do no reach the center and that you would have to backtrack to reach the center.
Since it is a maze I think it is an apt metaphor for NLM. Going the wrong way, getting lost, and confusion are quite apt to a maze and at times the efforts of NPM. Though you do wonder why the heck this symbol was selected for a group of musicians in the first place? What exactly does it have to do with the scripture from the high priestly prayer of Jesus in the Book of John?
I love this little blurb from the last conference held earlier this year.
"Liturgical documents can be our friends. Befriend the materials we need to know, especially newer elements for our consideration."
For me this really illustrates what I see as the attitude of some liturgical musicians when it comes to liturgical documents. For our consideration instead of being followed and being guided by. Maybe I read too much into a simple sentence but why in the world should you have to tell their member that Liturgical documents can be our friend, unless the general attitude is otherwise?
And of course there 2004 Pastoral Musician of the Year David Haas was on hand to teach. Though to be fair they also had also had classes on Chant. It is rather hard to remember sometimes that music publisher GIA does stand for Gregorian Institute of America.
Though some session raise my hackles a bit.
Explore how the use of Orff instruments can invite creative response and enrich music formation.
What the Church really needs are wooden xylophones for Mass.
The Singing Guitarist: Leading from the Guitar
The Organ: A Multicultural Instrument
PETER KURDZIEL
You'll be surprised at how you can make the organ sound!
Ah but would you be pleasantly surprised or hair-raising surprised?