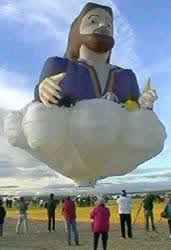 Update: Via Open Book today at Castle Gandolfo.

I am convinced that if we passed out blessed balloons on Ascension Thursday that Mass attendance would be equal to the non-Holy Day of Obligation Ash Wednesday. Or possibly even Holy Water balloons as a new method of aspersion.
The priest would recite:
But you shall receive power when the Holy Spirit has come upon you; and you shall be my witnesses in Jerusalem and in all Judea and Sama'ria and to the end of the earth." And when he had said this, as they were looking on, he was lifted up, and a cloud took him out of their sight.
And while they were gazing into heaven as he went, behold, two men stood by them in white robes,[and said, "Men of Galilee, why do you stand looking into heaven? This Jesus, who was taken up from you into heaven, will come in the same way as you saw him go into heaven."
And then we could all release our balloons on cue.