Sandy "Honestly, I had no idea how those papers got into my socks, jacket pocket, and portfolio" Berger will plead guilty to misdemeanor theft of classified documents.
My, what serendipitous timing. Just saying.
Here is something I did before related to Mr. Berger.
If you handle information with classifications on a daily basis
and don't want to be caught with your pants down or socked with a fine or some jail time – then Curt Jester Security Products have just what the security
auditor ordered.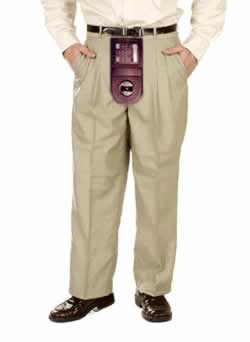 These high quality Khaki pants are made with heavy-duty construction
using 3mm steel pant plate, 6mm steel plate zipper and twin locking zipper
entry bolts. Simple to operate electronic keypad accepts a combination of between
3 and 8 numbers, giving millions of possible zipper combinations. Five LEDs
give security, power and operating status, zipper status, and leak detection.
Not only will your documents be secure, but you will never get those mocking
stares when you forgot to zip up.
Our pant security is totally in conformance with DOD and Joint
Command instructions used for Information Systems (IS) and assure compliance
with DCID 6/3, NSA/CSS Manual 130-1 and DIAM 50-4. Ultra secure leg openings
make sure that top secret documents never embarrassingly fall through. You
can keep a pant-load of information without every worrying about losing documents
again.
But what about those times when you have more documents than
you can stuff into your pants?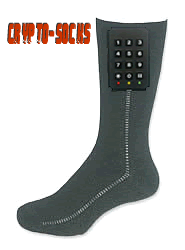 The Crypto-Sock will meet all of your security stocking-stuffing
needs. Equipped with industrial elastic that can not be pried loose or opened
without first putting in the correct 5 digit code. Biometric smell receptors
insure our socks can only be worn or opened by those with the correct foot
odor index as set when they are first put on.
"Wow! If only I had these before.
I swear these are the best security clothes available on the market."
–Former National Security Advisor