New from Christian Dio the latest in liturgical based scents. We have been making high quality perfumes for years and our new one is no exception. Introducing Eau Espirtu of Vatican II™ from our new line of dissi-scents.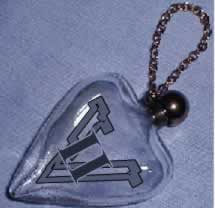 This lush scent of Eau Espirtu of Vatican II™ will take you back in time to the sixties with a subtle harmony of felt banners, burning draft cards, indian incense (guaranteed not to have a liturgical connection), and a note of crisp citrus and almonds to remind you of fruits and nuts. These various aromas appear to be discordant and this is purposeful to fully reflect the spirit of Vatican II. Instead of using an aldehydic base we have developed a unique and patented process to ensure the perfect base. Our fragrance scientists involved in olfactory research have developed this new process called reverse-canaization. We first start with fine wine and after intense preparation convert it into luke-warm water!
Eau Espirtu of Vatican II™ demands nothing of you and you can wear it at anytime with no change of your current lifestyle. No directions are required since you are sure to rely only on the spirit and not any actual text. "It is the spirit that gives life, the text is of no avail"
If you suffer from perfume allergies don't worry. Eau Espirtu of Vatican II™ is so watered-down that even those with the most sensitive noses will not be offended.
Look for the Scratch-n-Sniff example as a pullout in the latest issues of America, Commonweal, and the National Catholic Reporter.
Surgeons General Warning: Can cause your hair to turn prematurely gray, severely affect your reasoning process, and cause you to rush to the television when Fr. Richard P. McBrien appears. Though most users report that they didn't notice the difference or consider it not a side effect but a feature.
*A parody along this line was suggested to me by reader Anthony Roberts.