In what the media called an overreaction by James Dobson about SpongeBob and the diversity video, we now have the very opposite overreaction.
"Get dolls, buy stickers," he said. "Do something."
Tyger is asking people to bring their dolls to services on Feb. 6 so that they can be placed in windows of the church until Easter.
The national Web site for the United Church of Christ (www.ucc.org) shows a large SpongeBob doll being welcomed to its headquarters in Cleveland.
In one of the photos, SpongeBob sits across from the UCC's general minister and president, who says, "No matter who you are or where you are on life's journey, SpongeBob, you're welcome here."
Ray Grosswirth, a local Roman Catholic layman, said he'd like to see a poster of Pope John Paul II with his arm around SpongeBob's shoulder.
Maybe churches could consider the slogan "SpongeBob: A wonderful addition for the Holy Sea," Grosswirth said.
Now myself and others think that the original controversy missed the main points and focused it mainly on the cartoon an not the tolerance video and the organization behind it. Suggestions to put SpongeBob dolls in a church until Easter might be penitential, but shouldn't they at least put up purple SpongeBobs during Lent? At least the Catholic layman mentioned did not desire a Stations of the Spongebob during Lent. It would really be hard to meditate on "SpongeBob is condemned to dry up" or "SpongeBob is stripped of his square pants."
The Rev. John H. Thomas, general minister and president of the UCC, welcomes SpongeBob to the UCC's national offices in Cleveland. Randy Varcho/UCC Photo
Now I have often wondered if the United Church of Christ's web site was actually a parody site and I think this clinches it.
Now as for Ray Grosswirth's wish for a picture of SpongeBob and the Pope, well there is this rare picture.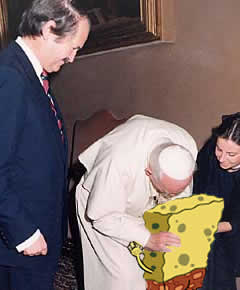 This though does make me wonder about the implications of intelligent sponges and baptism. Now of course a sponge would be quite comfortable receiving baptism via full immersion. Though I can think of some practical difficulties. I would recommend if you are baptizing a group of people that you baptize the sponge last. If the sponge goes first you might not have any water left over.
Now I am not going to get deep into the theological debate over whether if an asexual sponge can be gay. It would seem to me that the only real disordered desire for a sponge would be to have sex with someone other then there self.
Now I myself have never sat down and watched a SpongeBob episode. I am more of a Cartoon Network watcher then NickToons. Though apologist extraordinary Jimmy Akin does have a positive review of the SpongeBob movie.