One of the strange things about how society has evolved into a tolerant(intolerant) thin-skinned easy offended group is what happens during Advent leading up to Christmas. Now when I cheerily reply with a Merry Christmas, sometimes I feel more like a kid who has just said his first swear word in front of adults. That just wishing a Merry Christmas has become counter-cultural which greatly appeals to my fallen nature. I have yet to run into anybody that was offended by this exchange and usually it seemed to be meet with a sigh of relief by store employees that seemed to have been ordered to use Happy Holidays instead.
Here is something I did last year along the same theme.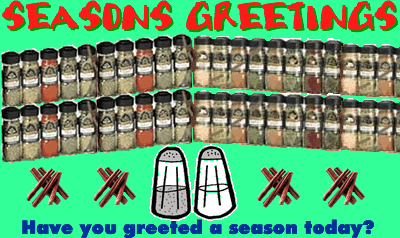 Yes it is that time of year again to celebrate the seasons and remember the words in the bible like:
You are the salt of the earth; but if salt has lost its taste, how shall its saltness be restored?
During this time we greet those unsung heroes that spice up our food daily and for our taste-buds to praise them.
Remember the reason for the season – to make food taste better!
The three wise men we sing about while celebrating the seasons knew the importance of seasons and brought some famous infant both frankincense and myrrh.
So as your walking along and someone calls to you "Seasons Greetings", with glee in your heart and a smile on your lips reply back "And a howdy-do to your salt and pepper also!"