NEW YORK – If you think those Web journals of opinions and obsessions are a way to get rich, consider Jeff Soyer, a self-described "gay gun nut" in Vermont.
Soyer, who runs the journal Alphecca.com, pleaded for donations last month alongside an image of a tip jar topped by gun-toting cartoon character Yosemite Sam. "Ten bucks buys a box of bullets or feeds my cats for a week," he wrote on the blog.
Days passed and he received nothing. "By next week this domain could belong to a porno site," he subsequently posted. "Maybe you folks think that would be a better thing. I'm starting to think so, too." Only after other bloggers linked to his request did he receive enough donations to pay the $117 for a domain name and a year of Web hosting fees.
He's not the only blogger not getting rich. Bloggers at this summer's political conventions brought heightened visibility to blogging, but the money, for most bloggers, is still missing. (source)
If I am not going to make any money off of blogging then how will I ever afford my official blogger's pajamas? Until Jonathan Klien when talking about the CBS forgery scandal said "Bloggers have no checks and balances . . . [it's] a guy sitting in his living room in his pajamas." I had no idea their was an official blogger uniform. What do we get to wear on causal Fridays – Underwear and socks? And what does he mean bloggers have no checks or balances. I have plenty of checks left since I just ordered two boxes and I still have a balance in my bank account. If he is talking about credibility then I wish we could do better and not fall for hoaxes like the Hitler Diaries or stories like Operation Tailwind -oh wait – those weren't bloggers. Maybe one day we will have as much credibility as that crack CBS 60 minute research staff (I think his name is Fred and he works in the mailroom)
I tried to google blogger pajamas and it turned up no usable hits. And why doesn't Cafe Press have pajamas that you can put your blog logo on. Do blogging pajamas have special pockets for your wireless PDA so you can blog from anywhere in your house? What other accesories are required? Are there special grooming accessories like deodoRANT and are we suppose to eat foods like Carnation Insta Breakfast?
Well in the meantime I think I will try to save up some money to afford some pajamas that look like this.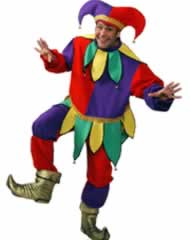 Updated: James Lileks for Monday's Bleat has a picture of a very debonair blogger today.
Update: Suzy Rice has created a great "Jammies Brigade" logo for bloggers. This term came from the good folks at Powerline Blog.