From the always interesting Aliens in this World regarding "Marian Shrines for Cyclists".
Our Lady of Ghisallo's image is a painting of Mary, with Christ as a baby or toddler seated on her knee; He blesses the onlooker while she bends toward him, nursing him. But there's a common variation on prayer cards where Mary is not nursing Him, but lifting toddler Jesus onto a bicycle seat! Medals of Our Lady of Ghisallo or the "Madonna del Ghisallo" are pretty common, too.

Our Lady of Ghisallo's patronage of cyclists was made official by Pope Pius XII in 1949. The relevant feasts are October 13 and November 2 (because a lot of people go there to pray for dead cyclists' souls).
Now that I am an avid cyclist I found this especially cool. Read her post for more details.
So I did an image search on this, and this was one of the first images I saw.
I enjoyed the whimsy of this: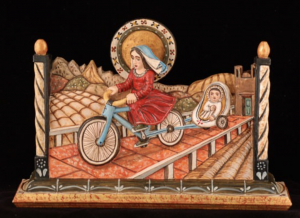 Madonna del Ghisallo
Wood, natural pigments, watercolors, and beeswax, 9 1/2"h x 14 1/4"w x 3 1/4″d, Item No. 10406
Looking up the artist Gustavo Victor Goler I find that some of his other works also appeal to me. Although priced above what I would be willing to spend.