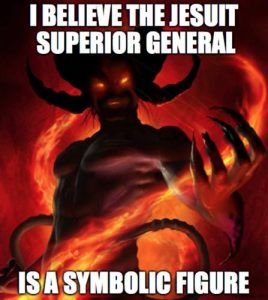 Father Arturo Sosa Abascal, the superior general of the Jesuit order, suggested that the devil is a "symbolic figure," in an interview with the Spanish newspaper El Mundo.

"We have formed symbolic figures such as the devil to express evil," Father Sosa said. He added evil can also be a product of one's social environment, saying that "there are people who act because they are in an environment where it is difficult to act to the contrary." Source
A spokesman for Fr. Sosa said his comments must be read in context and that Fr. Sosa believes what the Church teaches. Fair enough.
This prompted Archbiship Chaput to write a column Sympathy for the devil.
Kolakowski saw that we can't fully understand our culture unless we take the devil seriously. The devil and evil are constants at work in human history and in the struggles of every human soul. And note that Kolakowski (unlike some of our own Catholic leaders who should know better) was not using the word "devil" as a symbol of the darkness in our own hearts, or a metaphor for the bad things that happen in the world.