Are you closely awaiting the constantly forecast arrival of the Motu Proprio to liberalize the Tridentine Rite? Do you follow every rumor of the latest announcement of the release date?
If so you will enjoy the fun of Motu Proprio Pool.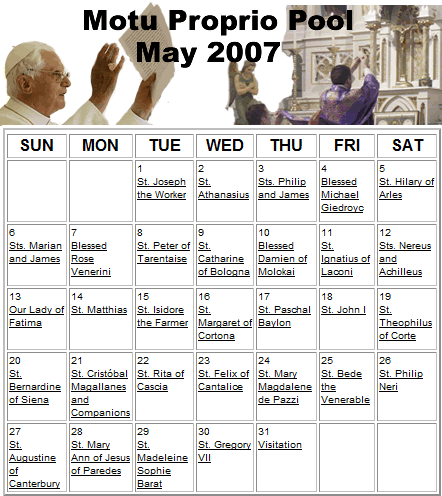 Play with your like-minded friends in you local parish or throughout your diocese. It is really simple to play. Just pick the date you think it will be issued on and write your name. Each person ponies up a dollar to pick a date of their choice. If the document is not released that month the pot rolls over to the next month and you all try again.
The best thing is that it does not matter who wins the pool since when the Motu Proprio is released everybody wins.
Motu Proprio Pool is more-than-likely legal to play in most states. This is purely a game of chance. The predictions so far of Vatican insiders on upcoming release dates have been just as random as if you threw a dart at a calendar in the first place.
So print out the Motu Proprio Pool and start having fun now!