It has been good news for the space program this week with the successful landing of the Mars rover Spirit. Now with Presidents Bush's push for a science base on the Moon and a manned landing on Mars it looks like even more good news for the scientific community.
The question is this an altruistic mission in the name of science or something else entirely. The Curt Jester has learned the real reason behind this sudden interest in space exploration. This partial picture was found in a White House garbage bin only partially shredded.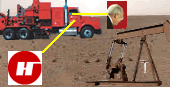 It is shocking enough that the Bush administration is planning to destroy the national beauty of the red planet through oil drilling and development. This image has been digitally corrected to magnify two surprising details. The logo on the conceptual image of mars development has a Halliburton logo and the driver is no other than Vice President Dick Chaney.
Frustrated to have their plans thwarted in the development of the Arctic National Wildlife Refuge they have turned their plans to other planets. The lower gravity on Mars will help Mr. Chaney's heart condition so that he can go on being a shadow ruler behind the scenes of the Republican Party. Call your Senator and Congressman now to stop this crass development of the natural wonders of the solar system. We need to get a handle on planetary sprawl before it gets out of hand. We also need to get rent-control in place for any proposed Moon buildings.
Since Chaney's time is running short and the cost of a mission to mars will be in the billions the administration has looked for means of cutting what could be a prohibitive cost. Thus the President recently announced an increase of immigration for a workers program into this country. It can now be known that the real reason for this push was to get a cheap source of labor in the development of the Moon and Mars programs. Don't let NASA set up scientific sweat shops! Stop the madness now.