A 44-year-old nun has qualified as a karate black belt.
Sister Rhonda Rice is one of 16 nuns at All Hallows Convent at Ditchingham, Norfolk.
She started practising the martial art in the convent cellar three years ago.
But was later given permission to join a karate club.
"I had a place in the cellar under the refectory. I had a punch bag hanging-up, but it wasn't the same as joining a club.
"I finally plucked-up the courage to ask the Reverend Mother if I could join a karate club and she said 'Yes'.
[Full Story[Via Kat Lively]
I was wondering what might be the weapons that a nun would train with. Then I realized it was an obvous answer.
Nun-Chucks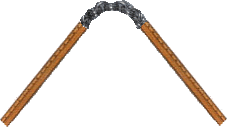 And with these specialized weapons you know she could beat you within an inch of your life if you didn't measure up.