A reader has started a new blog dedicated to noisy churches.
This site is for you, if the noise before your Liturgy / Service prevents you and others from saying your prayers. If the same is true about the noise and chattering during the service – you're just as welcome.
We shall be awarding icons of 1, 2, or 3 stars to Churches / Congregations who satisfy us as being worthy of note and more importantly – improvement.
Please DO email us with a description of a Church you know or attend. Be SPECIFIC regarding the noise problem and if possible, provide us with a link to it's website or email (photos would be good too!)
This is NOT about ridicule. It's about making our churches into Sacred Spaces to be with / before the Lord and hear what he has to say to us.
That said, we won't be too serious either.
Now when it comes to noisy parishes we can just grin and bear it, but I think we can spend some time grinning about the subject also. Instead of just griping we can also laugh on the subject also. But it is a subject many can commiserate on. My own parish does not have this problem, but when I attend Mass at other parishes I have definitely heard the phenomenon while attempting to pray prior to or after Mass. Even Jesus would leave to go to a quiet place to pray. He didn't just head to the gates in Jerusalem or other noisy places to pray.
Some parishes sound like a movie theater prior to a movie. Sometimes you can almost imagine a parish having to play one of those "Silence is Golden" clips that often get played just before a movie starts. Reminders to turn off their cell phone and to not add their own sound track to the movie. From my own limited experience I have noticed the amount of noise to be a reciprocal of the reverence of the Mass. The more reverent the Masses said the least likely people are talking before it. The more the Mass is intended as what seems to be just entertainment the more it is treated as such.
In fact I can think of a career opportunity in this field.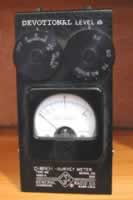 A consulting firm that goes around measuring the noise in Church could be a grand idea. A db (Devotional Boundary) meter would be required. The higher the reading the less chance of devotion will occur. The measurement is logarithmic for example just a 3 Devotional Boundary increase would be the equivalent from just three people talking around you to fifty people talking around you. Another 3 db increase and more-than-likely only people who are deaf can pray.
Though maybe just taking readings and later publishing them will not be that effective. Putting signs around entrances to the church would probably be as effective as posted speed signs.
Though possibly we could set up something like those radar speeds signs posted on trailers showing your current speed could be effective. These usually do make people more aware and to slow down wherever these trailers are found.
Something like this.