The story of the Three Little Pigs' battle with the Big Bad Wolf has delighted children since it was written more than 150 years ago.
But the tale highlighting the merits of hardwork and practicality has become the latest to fall victim to political correctness.
A junior school production of the children's story has been renamed the Three Little Puppies for fear of offending Muslims.
Organisers of a children's music festival have altered the popular characters and lyrics because of the multi-cultural nature of the youngsters involved and their parents in the audience.
But yesterday Islamic leaders condemned the politically correct move as misguided and said decisions like this were turning Muslims into 'misfits' in society.
Good to see this PC nonsense being talked down by some Islamic leaders. Though Year of the Pig ads were banned in China for Muslim sensitivity. In another case Muslims prevailed against toy pigs and a Winnie the Pooh tissue box.
Three little puppies is just too lame. I have an alternative that some Muslims will have no problem with.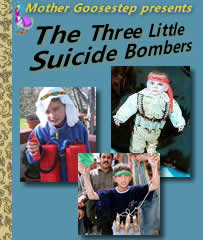 In this story the Big Bad West keeps coming after and huffin' and puffin' a lot of hot air at these three little terror tykes. First they fled to Afghanistan, but the Big Bad West mostly chased them out. Then they fled to Iraq and the Huffin' and Puffin became less organized and focused. Then they fled to the Media and now laugh as the Big Bad West huffs and puffs to no avail and they can just easily wait him out.