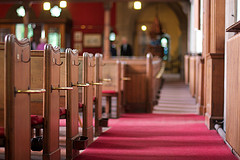 While the modern idea of the rapture as popularized in the 1830s by John Darby is a modern invention believed by some Protestants, there seems to be even a more modern version of the rapture regarding Catholics.
Now this is all guess-work and not yet proven. Purely speculation, although it seems to fit some of the facts.
I think I had always been aware of this phenomenon, but I started to connect the dots. Usually sitting in close to the back I am one of the last to receive Communion. Going back to my pew I find that almost half the people sitting around me are now gone. Now since often during Mass I close my eyes to concentrate to attempt to pray I can't say for sure what happened to these people. Still I draw a couple of speculations together. As Cardinal Arinze said "The Apocalypse, or the Book of Revelation, as it also known, presents a striking imagery of the heavenly liturgy and helps us appreciate how the Eucharistic celebration, as it were, looks heavenward." Maybe these missing Communion recipients were so caught up in the Holy Sacrifice of the Mass and receiving Holy Communion that they were raptured up into heaven?
Looking at Matthew 24:40 "Then there will be two men in the field; one will be taken and one will be left." That sounds a lot like the proportion of people that make it all the way past the first verse of the closing hymn.
Still I could find nothing in the Catechism or the writings of the Church Fathers to validate this. Another theory which I much less prefer is that people are just leaving after receiving Communion. I would rather believe in the Catholic rapture than that. I really can't discount this though in this materialistic age. People can be so caught up in the idea of shopping that they have to leave early to go to the mall and do even more shopping. In Catholic shopping Eschatology this can be described as:
Pre-mall: Christ returns before a thousand day shopping spree.
A-mall: The shopping occurs in heaven and those who have died in the faith share in this shopping during the current church age.
Post-mall Christ returns after a thousand day shopping spree.
Photo credit: itmpa via photopin cc