"It's a test to see if the average person or people of Philadelphia are kind enough, gentle enough to treat Pope Bot with respect and take it from place to place and have it be just fine," radio host Preston Elliot said.

The radio station is hoping Pope Bot's successful odyssey will show that Philadelphia and its residents are more than ready for Pope Francis' visit next month.

"To show this area is loving, caring, nurturing and can serve as a proper host for the actual pope," radio host Steve Morrison said.

Pope Bot was created in part due to the destruction of hitchBOT, a hitchhiking robot that captured the hearts of fans worldwide.

The Canadian researchers who created hitchBOT as a social experiment told The Associated Press that someone in the city damaged the robot beyond repair two weeks ago, ending its first American tour after about two weeks.

"Sadly, sadly it's come to an end," Frauke Zeller, one of its co-creators, said. Source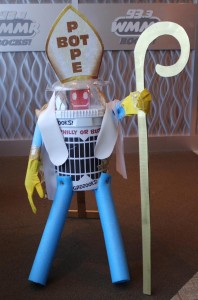 Well if you wanted to test survivability "Philadelphia or Bust" might not be the best phrase.
A Robot Pope is nothing new though. The short story "Good News from the Vatican" by Robert Silverberg involved the election of a robot Pope. It won the 1971 Nebula Award for Best Short Story. Of course a robot pope would be an anti-pope or is that antifreeze-pope?
Still I have to wonder about a robot Pope ruled by Asimov's The Three Laws of Robotics. Which of course were loopholes galore so that stories could be made based on them.
Really regarding the Pope their is only one rule as defined by Vatican I.
A pope is protected from error when he "proclaims by a definitive act a doctrine pertaining to faith or morals" (CCC 891)
So lots of bad popes, but no loopholes within this very limited definition. Still the Holy Spirit is much wiser than positronic brains.
Now as to the build quality of Pope Bot, I can't say I am impressed. I built robots in my basement as a kid and I think I could have done better than this.