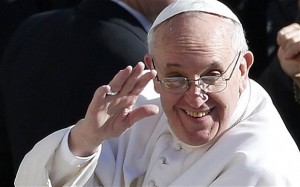 This version of The Weekly Francis covers material released in the last week from 30 September to 13 October 2013.
The Weekly Francis is a compilation of the Holy Father's writings, speeches, etc which I also post at Jimmy Akin's The Weekly Francis. Jimmy Akin came up with this idea when he started "The Weekly Benedict" and I have taken over curation of it.
Angelus
General Audiences
Homilies
Messages
Speeches
Daily Homilies (fervorinos)
Papal Tweets
Note 1: This interview was not recorded and was written from memory by Eugenio Scalfari afterwards. There are some questions about the details related as noted by Cardinal Dolan. See this article for additional information.
Note 2: Due to problems with using copyrighted material from the Vatican the eBook version of The Weekly Francis has been suspended. For users of the previous ebook volume I have some suggestions for alternatives on how to best read these documents especially on mobile platforms.