From the latest USCCB Committee for Divine Worship (BCDW) Newsletter as per Jerry Galipeau.
USCCB Administrative Committee Approves Change to Sing to the Lord: Music in Divine Worship

In response to a request from the Congregation for Divine Worship and the Discipline of the Sacraments, the USCCB Administrative Committee adopted a change on September 12, 2012 to the U.S. Bishops' 2007 guidelines on liturgical music, Sing to the Lord: Music in Divine Worship. Number 188 of the document has been altered to remove any further permission for the use of Christological tropes or other adaptations to the text of the Agnus Dei (Lamb of God).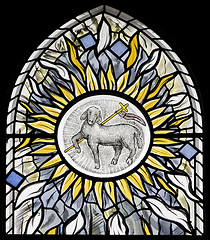 No doubt progressives will come out with a "Support our Tropes" bumper stickers.
I remember when Jimmy Akin had requested information on whether the USCCB had granted such permissions for one of the more common changes and had received a negative reply on that.  He queried the publishing company that had published this version of the Agnus Dei and never received a reply back.
I've heard several variations of the Agnus Dei, but the most common was using other verses that substituted "Lamb of God" with "Bread of Life," "Prince of Peace," "Son of God," "King of Kings.", etc.  You never quite new when the last verse was coming up.  Some versions I have heard even excluded "take away the sins of the world."  The ideas behind such changes for universal prayers has always been problematic.  That you can't even go from one parish to another and learning another form of "common" liturgical texts is just plain silly. Destroying the threefold Trinitarian theme with the added phrases goes beyond just silly.
Though things are getting better since it is a while since I have heard the extended Agnus Dei with Tropes. One parish though has added a phrase to each line.
Now I will rant a bit about the USCCB Committee for Divine Worship (BCDW) Newsletter.  The Newsletter requires a $15.00 a year subscription even for the electronic version.  They are published on their site 3 months after subscribers get them.  The USCCB is infected by the publishing world model all over the place which mainly just restricts access to documents.  Remember when the USCCB stopped a podcast from doing daily readings using the NAB? Spread the Gospel for a moderate license fee.
Photo credit: Lawrence OP via photopin cc