Maria Jesus Galan had 600 Facebook friends. She liked to communicate with them, to spread good news.

However, her Facebook habit has lost her something very dear–her habit.

Galan, you see, spent 35 years inside the Santo Domingo el Real convent in Toledo, Spain. It's an introspective place that doesn't encourage its nuns to have too much contact with the outside world.
However, according to the Telegraph, the convent allowed a computer into its midst 10 years ago.
Sister Maria saw the future that this computer offered. She digitized the Dominican convent's archives. The computer also offered more mundane assistance.

"It enabled us do things such as banking online and saved us having to make trips into the city," she told the Telegraph.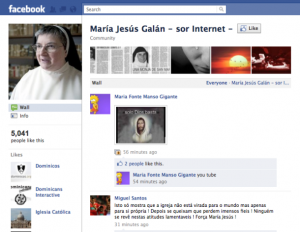 The local government even gave her a prize for her digital initiatives. Oh, but with the prize came the fame. She began to collect more friends on her Facebook page. It seems, though, that this made her enemies within her own walls.

Her fellow nuns reportedly claimed that Sister Maria's Facebook activity "made life impossible." She was therefore asked to leave and now lives with her mother.

The Dominican order has refused to comment on Sister Maria's departure. However, her Facebook page is overflowing with sympathy. Some posters tell her that now that she has her freedom, she can travel to places like Australia. Some declare themselves sad that she was the victim of such an injustice. [Source]
The rest of the article is the old Church is out of touch with new technologies. The question here had nothing to do with social networking, but whether the hours of activity was interfering with her vocation as a nun or the charism of the order. We don't know the details here to make a judgement of this on our own other than that the order certainly saw this as a problem. Though it has turned here friend count from 700 to more than 5,000 – so hopefully she will continue to evangelize and not whine about the situation.