Just 90 minutes' drive from the temptations of Amsterdam is a village so devout that swearing is banned, women refuse to wear trousers and the bank machine does not dispense cash on a Sunday.
The Netherlands, best known abroad for its liberal policies on sex, drugs and homosexuality, is also home to a Protestant "Bible Belt" mapped out by villages such as Staphorst.
Now a small political party long associated with the Bible Belt, the Christen Unie (United Christians or CU), is benefiting from a surge of support outside its rural heartland triggered by nostalgia for a more moral, compassionate society.
After almost doubling its vote in last November's general election to 4 per cent, the CU has become the kingmaker in the Netherlands' new centrist coalition government, a feat unthinkable at the time of the previous election in 2003.


Wow they even let ATM machines observe the Lord's Day. For six days they worked and on the seventh day they stopped dispensing cash. The Sabbath was made for ATM, not ATM for the Sabbath. If you try to draw cash on Sunday the screen calls you a Pagan and shreds your bank card.
Here is a previous parody I did on Bible Belts.
Equip yourself for the Christian life with these new Bible Belts™ for every person and occasion so that that the man of God may be complete, equipped for every good work. A just man's pants fall seven times a day so keep that from happening with these great Bible Belts™. Are you at work or in a grocery store and somebody challenges your faith? Are you always prepared to make a defense to any one who calls you to account for the hope that is in you? Sure you have tried the normal pocket Bibles, but they are just too hard to read. Why not go with the real thing that will be in front of you ready for any occasion.

King James Bible Belt™. Do you enjoy the beautiful language of the KJV? Then this is the belt for you. Comes with a spring loaded cover ready for that fast paced game of Bible Ping Pong. Pages are specially treated to help you to quickly get to the verse you want.
Our Price: $29:99



Catholic Family Bible Belt™. Yes even Catholics can read the Bible! This Bible is heavily indexed since you know the verse you want is in there somewhere. Now with seven more books then the KJV! This belt has plenty of room to attach Holy Water Fonts, Reliquaries, and you favorite Holy Cards. Also comes with a sewing kit for those Scapular cord emergencies.
Our Price: $39:99



Apologist's Bible Belt™. Comes with King James Version, Catholic RSV and Strong's Bible Concordance. If your a professional apologist then this is the Bible Belt for you. Be prepared for those Bible Tag Team matches and be ready for any move.
Our Price: $69:99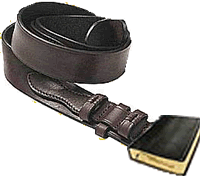 Compact Men's Bible Belt™ Select the Bible version that you want for those who want a fashion conscious belt.
Our Price: $29:99



Women's Fashion Bible Belt™ Comes in only the most trendy Biblical Translations that never make you look fat.
Our Price: $39:99


And if you act now with every order you will receive our new teflon coated sandals absolutely free!. Dust will not adhere to them so that when you preach to a town that will not hear the Gospel there is not dust to have to knock off at the end.