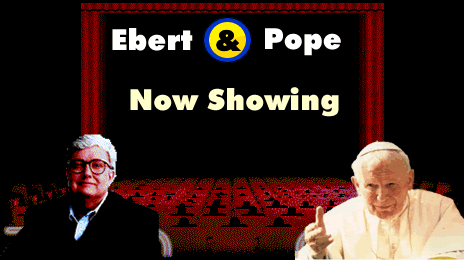 (Shown in this publicity release photo, Pope John Paul II practices making the famous "Thumbs Up" gesture.)
(Rome) A Curt Jester Exclusive – In a move sure to surprise and shock many, his Holiness Pope John Paul II has decided to join movie critic Roger Ebert of the Chicago Sun-Times in a new movie review show. After the surprise success and world-wide attention given to his one sentence movie review of Mel Gibson's The Passion of Christ. The following is from an exclusive interview given to the Curt Jester.
CJ – Welcome your Holiness and this is such an honor considering what a great fan I am of yours. What made you desire to become a movie critic?
Pope JPII – I have always been interested in the theater and the arts since I was a child growing up in Poland. I was involved in poetry and was an actor in an experimental theater group prior to the invasion of my country by the Germans. I also wrote poetry and plays and one of my plays The Jeweler's Shop was later made into a movie. The movie starred Burt Lancaster, Ben Cross and Olivia Hussey and I had said back then that this was "the best possible film based on my play." With that statement, I guess that was when my career as a movie critic was truly founded. I have also written an official Letter to Artists where I started out by saying "The artist, Image of God the Creator".
CJ – As you know there has been much controversy over whether you had actually said "It is as it was" after previewing "The Passion of Christ." It seems that there has been constant reporting coming out of the Vatican affirming that you said this and by others that you never made such a comment.
Pope JPII – Well I am sorry that you are going to have to wait for the first episode of my new show before you find out the story behind this. I can tell you that this whole episode was the catalyst for my wanting to get into the movie review business. People really seem to be interested in my take on films. Previously we had created a Vatican Film List of what we decided were 45 films to recommend. My aides have told me that there have been hundreds of articles and editorials on what was alleged as my review of the movie. So if people are really that interested in my opinions on the cinema then why not make it a constant feature of my pontificate. Kind of a Wednesday audience with Roger Ebert.
CJ – Are you concerned that your reviews as a private citizen might be construed as an official theological position on a film?
Pope JPII – We have considered placing a standard theological disclaimer at the beginning of the show to specifically let people know that these are my own private opinions and not official Vatican statements. People often confuse my infallibility when making a Ex Catherdra statements in the areas of faith and morals with the normal fallible statements I can make in other areas. I will be sure not to review any movies called "Faith and Morals" and will not speak from my Cathedra or Chair on any film.
CJ – Thank you very much Holy Father. I wish you much success in this new effort and look forward to viewing your new show.
Pope JPII – Thank You and I also give to you my heartfelt good wishes!