Have you found yourself leafing through the Catechism of the Catholic Church
and finding that you just don't accept all of it? Have documents from the Vatican
angered you in their pig-headed determination not to believe what you believe?
Do you just know that you are right and that two thousands years of teaching
and tradition are just plain wrong?
Did Dr. Ludwig Ott's "Fundamentals
of Catholic Dogma" just make you break out
in an allergic rash?
Does appealing to the sensus fidelium to defend your beliefs just not seem
that fulfilling anymore?
Have you wished the Church would just get with the program and drop all of
that out-of-date doctrine that just doesn't match modern day sensibilities?
If you answered yes to one or all of these questions then congratulations
your Holiness, do we have the product for you. Since you know that you are
infallible on faith and morals why not get all the other benefits that go with
it? There may be a lack of vocations to the priesthood, but no shortage
the Papacy. So get in line now.
Introducing Pope-In-A-Bag©, all you need
to fulfil your plan for yourself. With Pope-In-A-Bag© you
get these great components.
• Personal Papal Smoke Generator – Safely generates white smoke to announce
the day you elected yourself to the Papacy. Crowd cheering sound effect is
available in both CD and Cassette.
• Papal Hallway Mirror – Just the thing to groom
yourself as you get ready to go out into the world. Adjust the mirror so
that your face will reflect
in this highly polished surface. On the order form just include your papal
name to be displayed on the companion bronze plaque.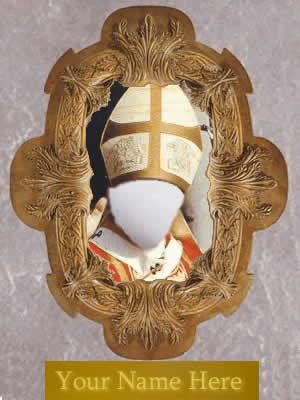 • Personal Papal Holy Card. Your Pope-In-A-Bag© contains
ten of your very own holy cards. Our customers normally order packs of 100
to place at the back of their churches. Please send in a passport photo with
your order to be integrated into your card.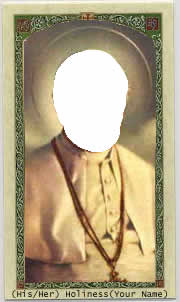 • Papal Fisherman/woman's ring. Included is a box
of Crackerjacks with your ring in it. Included also with your Pope-In-A-Bag© is
a template document to include in your will to ensure that your ring is destroyed
upon your death.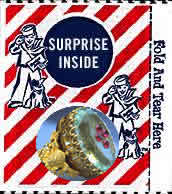 • Papal Cathedra – Your own Pope's Chair. Select from traditional or
Papal Stratolounger with drink holder. Your already use to making Ex Cathedra
pronouncement, so why not do it in style.
• Papal Robes – One size fits all.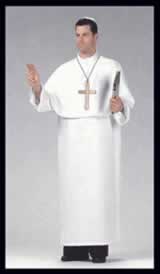 • Snap-On Papal Balcony – If your papal domicile doesn't already have
a suitable balcony for your Wednesday audiences or other occasions, don't worry.
The Snap-On Papal Balcony installs quickly and easily in minutes to your window.
• Personal Papal Document System – Included is a
"Word of God Processor" that make writing your encyclicals a piece of cake.
Besides the
standard spell checker it includes a Bible quote generator to justify your
theology. To help you get started "Encyclicals for Dummies" is included free
of charge.
• Includes a coupon for ten percent off Build Your Own Catholic Cathechism
So don't delay, be your own pope today.
* Magisterium not included.
* Offer not valid in the Vatican City State