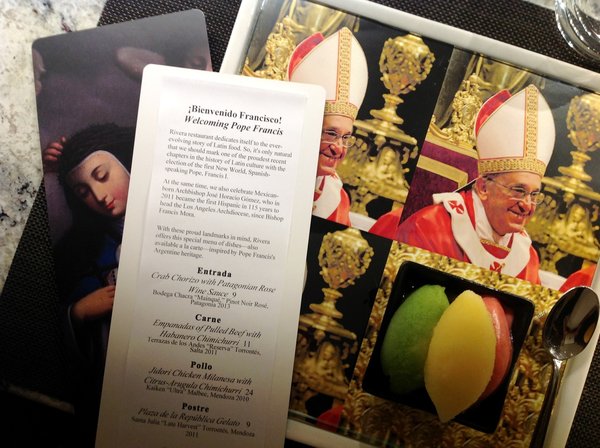 John Rivera Sedlar is one of the best cooks I know. And that's partly because you can never guess where his head is going next. The one thing you can be sure of is that the result will be something beautiful. And there's a good chance it will make you think.

The latest example? Starting Friday night his Rivera restaurant will be featuring a special menu featuring what he's calling the Pope on a Plate. It's a custom plate decorated with photographs of recently elected Pope Francis, the Spanish-speaking first pope from the New World.

It's just one part of a special menu Sedlar is offering celebrating the Argentine roots of the man who was born Jorge Mario Bergoglio. Sedlar says the menu is also a tribute to Archbishop Jose Gomez, who in 2011 became the first Latino in 115 years to head the Los Angeles Archdiocese.

"There's so much religion in the Latin kitchen, we're very religious people, and so I wanted to honor that," says Sedlar.

… The Pope Francis menu features dishes Sedlar says are based on traditional Argentine cuisine. There's an appetizer of crab chorizo with Patagonian rose wine sauce, entrees of empanadas of pulled beef with habanero chimichurri or chicken milanesa with citrus-arugula chimichurri, and the featured Pope on a Plate dessert, a Plaza de la República gelato sundae with ice creams in the colors of the Argentine flag.

The dishes are available ala carte, or as a $45 three-course tasting menu. Rivera sommelier Mark Mendoza has put together wine pairings featuring Argentine wines for an extra $30.

"Actually we've just modernized the dishes," Sedlar says. "We used the best Jidori chicken we could get for the milanesa and we're using extraordinary citrus, everything from pink and yellow grapefruit to fingerlimes from Australia. We're using Cielo Verde rooftop greens [from his garden atop Petty Cash restaurant] instead of regular lettuce.

"I think we're refining these dishes rather than reinventing. That's very unusual for me; usually I have to put a twist in there. But this is a very reverent menu."
Russ Parsons at the L.A. Times
Ah a reverent menu. Maybe the Pope has a devotion to the dessert fathers which he reads on Sundae. Not sure the Pope would be thrilled about this offering at an upscale restaurant for foodies in downtown L.A.
This is not the first time Sedlar has incorporated Roman Catholic iconography in his food. In 1993, when he was at Bikini restaurant in Santa Monica, he designed a special Our Lady of Guadalupe plate to go with Day of the Dead tamales.

This created a bit of controversy, at least at first. "We do not believe that the fact that you placed a tamale on [Our Lady of Guadalupe's] chest is going to bring you any blessings," was one of the milder comments.

"It was slightly controversial," Sedlar admits. "We had a lot of Catholic parishioners call us and ask us why we had decided to do that. But once we explained we had done it entirely out of respect, we'd done it to honor Our Lady of Guadalupe, who is the patron saint of the Catholic Church in Mexico, they understood."
Well the last is not exactly correct since many who had complained about this were not mollified by this explanation.
For example Rev. Gregory Coiro the archdiocese's public affairs office wrote to Sedlar expressing his concerns regarding the Our Lady of Guadalupe plate. Coiro makes the comparison of using the plates to walking into a restaurant and finding that your napkin is an American flag. "True, it's a piece of cloth," he says, "but its a piece of cloth that carries a powerful symbolic value. I was trying to bring it to the attention of the restaurant that this was a misuse of a religious symbol."
Still I kind of like the Pope dessert plate.