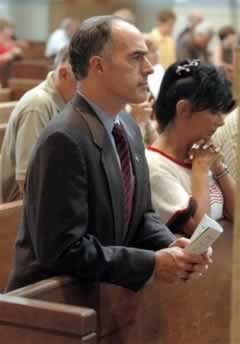 Faith will not dictate my positions on the issues
In answering a question by a priest on civil unions, Casey said that he doesn't think that a politician's position on a public policy matter can be "based on" or "mandated" by your faith.
In answering another question on religious liberty – specifically the Massachusetts situation where Catholic Charities has been threatened by its position on gay adoptions – he reiterated that faith can't "dictate" a public official's views on such matters.
He stressed his independence – from his party, from other factors … like faith. [Kathryn Jean Lopez]
So I guess that makes Jesus a dictator. Last I checked no one is being forced to be a Catholic so I guess he joined a dictatorship willingly. Though thinking about it what he said he really has joined a dictatorship. The one then-Cardinal Ratzinger spoke of prior to becoming pope. The dictatorship of relativism.
If the Catholic Church given to us by Christ through faith can have no bearing on a public life what we end up with is the political equivalent of Dr. Jekyll and Mr. Hyde. Dr. Jekyll goes to Mass and Mr. Hyde goes the the Capitol building. The phony separation of Church and state becomes at the individual level a separation of faith and works. "What does it profit, my brethren, if a man says he has faith but has not works?"
Imagine so many Protestants charging Catholics with believing in salvation by works? I guess they don't watch must C-SPAN.
What I sadly find funny is that this is what Bob Casey Jr. said for the 38th annual Pope John XXIII Lecture at the Catholic University of America's law school entitled: "Restoring America's Moral Compass: Leadership and the Common Good" What is the point of a moral compass if you leave it in your pocket while voting? Since he supports homosexual unions and adoptions and Plan B does his moral compass point to magnetic South? Magnetic South of course refer erring to the nether regions.