Happy Easter to all of my readers and their families. Alleluia. He is risen, he is risen indeed. Sometimes I wish I lived in a heavily Catholic area just so I could walk down the street initiating that or answering it in reply. There is just so much joy in those words and a lifetime of exploring the depths of what they point to. Unfortunately in the culture you would have little idea that Easter is the greatest feast for Christians. Even as a young atheist it was hard not to learn something about the story of Christ being born even though it might be heavily diluted. There is a least of buildup of expectation with all the cartoons and music dedicated towards Christmas or at least some idea of Christmas. Easter seems to be the second-class citizen of feasts. Even as a kid there is really no buildup and longing for Easter Day. Easter Egg hunts are fun, but they don't exactly leave you sleepless at night with expectation. There are not great specifically Easter movies played during Lent or cartoons dedicated to the story of Christ's last days and resurrection. Even Handel's Messiah which really should be played during Easter, often get played during Christmas. Easter is the Roger Dangerfield of feasts. Maybe this is because the societal message of Christmas has become "it's all about family and being nice to one another during this season" since this can be tied to the Holy Family. The message of Easter is much tougher to see. Christ's death on the cross and the resurrection were necessitated by our sins and his great love for us. Ah, but the sin part – there is the rub. Not to be mentioned in polite company unless we are talking about somebody else's that is. That our own sins require such a terrifying sacrifice, well let's not bring that up. The message of our redemption is hard to sell, when the fact of our sins have have either been excused or expressed as only a pathology of needless guilt.
It is easy to sing "Were you there when they crucified our Lord" and forget that indeed we were. Surely I know my own sins were there. God who is outside of time and came into time knew all of ours sins past, present, and future. The Garden of Gethsemane where he experienced the agony in the garden was more than just the stress from the upcoming trial. Being fully human he asked the Father to take this cup from him. But also as fully God he also knew that despite his great love for us and sacrifice and how much he is willing to give saving grace to all of us, that still we would refuse and turn from him. That even his followers would continue to sin and to hurt him. No wonder he sweated blood.
Getting back to the joy of Easter I think one of my greatest joys is to contemplate is faith itself. Though I have only been Catholic for seven years now it is hard to imagine back to to the time when I was not only not a Catholic, but a skeptical atheist instead. Once you are healthy you really don't want to dwell on the time when you were malnourished. Faith is such an amazing gift – the very gateway into realizing God's love for us. I am still amazed at time to wake up in the morning and to realize what I have been given. Though I also think about the parable of the talents and hope that I don't leave such a great gift buried.
Another joy is to see those coming into the fullness of truth – the Catholic Church. A hearty welcome home to everybody who has been received into the Church during the last couple of days. Especially to Dawn Eden whose blog I have been reading for the last couple of years. When she was an Evangelical she had a better understanding of the truth of sexuality as taught by the church than most of us Catholics do. And as TSO said "A conversion is a miraculous thing and thrilling to witness, even 'virtually' through the lens of blogland." Seeing others come into the Church reminds me of my own entrance and it reawakens the joy and wonder of that day that after literally forty years in the wilderness I had entered the promised land of his Church. I also enjoy watching adults be baptized. To see baptismal regeneration in action as their sins are washed away and forgotten through this awesome sacrament. To also subsequently watch them and other converts receive their first Communion.
It also always brings tears to my eyes to sing the Gloria at the Easter Vigil since it has be suppressed during Lent and to also to be able to once again shout Alleluia! That after the rigors of Lent we can once again rejoice. Though it is because of Lent that we can once again realize what we are rejoicing about since it is so very easy to become complacent. We more fully become Easter people because we have traveled through Lent. At my parish they have a Good Friday service that runs from noon till a little after three. I love the symbolism of spending those same three hours as Christ did on the cross.
After the Good Friday service we rewatched The Passion of the Christ. Even after repeated viewing this movie is about impossible to watch with dry eyes. Probably the very antithesis of a popcorn movie, it is a tissue movie instead. Though after this we made the mistake of watching ABC's The Ten Commandments which we had recorded. I recorded it because it was recommended to Barbara Nicolosi and she mentioned it on her blog. It did not take long to realize how truly bad this rendition really was, but we kept watching like staring at a train wreck. It surely made me realize how important it was that Mel Gibson in his movie did not do it in the vernacular. There was no distraction from people with accents that just not fit. The Ten Commandment mini-series with it's Egyptians with English accents only made it more comical. They also had the whitest looking Rameses ever to appear. The portrayal of Moses by Dougray Scott made me long for that great thespian Charleston Heston. It was so bad it was funny. I can't really say my critique contains plot spoilers because they already spoiled the plot. This was a very moody dour Moses with excessive facial expressions to match.
The writing though was even worse. This was just another Biblical epic written through very modern eyes. Some of the conversations in the movie seemed to come right out of discussion of comparative religion classes in a modern university than something the Israelites would have been discussing. I have no real problems with some changes made in this type of movie from the Bible itself. It is just that in this case every time they departed from Exodus there was no enhancement, but a bad decision instead. What in the world was the reasoning that Moses sent his wife and family away instead of just Jethro returning to his land. I almost laughed out loud at seeing Miriam with a sword in her hand against the Amalek Even worse was the pacifist Joshua that didn't want to fight and said that we should rely on God only to win the battles. Moses had to beat Joshua up and talk at him to arise his warrior spirit. The depiction of the manna was also annoying. It looked like the results of red ants invading your property with these circular mounds that appeared. The manna also instantly became worms for some people who tried to take too much. The speeches by Moses to the people were also pathetic. Telling them that they had to totally rely on themselves and not God before going into battle with the Amalek just totally misses the whole point of Exodus.
The burning bush was unimpressive, though at least the parting of the sea was a worthy special effect. The Golden Calf was also unintentionally funny. Instead of a molten calf they had one carved out of stone with some gold placed on it. I guess in this version Moses had a real difficult time melting it down and making the people drink it (though this part was dropped in the movie anyway.) But even worse is after this they show Moses and his followers killing the women and and slitting the throats of children of those who disobeyed. Why in the world did they think that transforming the text of Exodus from "Put every man his sword on his side" to show killing children? They also had the lamest Ark of the Covenant ever seen on screen. It looked like something cobbled together from the dollar store instead of them being "filled him with the Spirit of God, with ability, with intelligence, with knowledge, and with all craftsmanship."
Gee how did this post on the joy of Easter turn into a critique of a crappy mini-series? Oh well I guess I had to get that off my chest and as a public service to warn anyone from watching this show unless they are planning a Mystery Science Theater 3000 treatment of it. For something worthwhile read Pope Benedict XVI's Urbi Et Orbi message and also wish him a happy 79th birthday! Once again Happy Easter. Rejoice!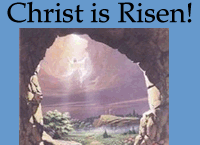 Here is my new banner graphic for Easter and Eastertide. You might need to hit refresh to have it show up at the top.