Dawn Eden has a report about Democratic Governor nominee Thomas Suozzi:
Nassau County Executive Thomas Suozzi, currently struggling to win the Democratic nomination for New York's governorship, yesterday rescinded a $90,000 grant he had promised to an abstinence-education program — after the head of the program, which also runs pregnancy resource centers, complained publicly about Planned Parenthood's promotion of bestiality.
She then goes on to show just how accurate the charge is with quotes and images from Planned Parenthood and its related sites.
I remember when Thomas Suozzi (who is Catholic) advocated reducing abortions by funding adoption and homes for single mothers, while at the same time funding groups like Planned Parenthood. While this was a least a step partly in the right direction, it certainly didn't take much to veer from it.
The topic does remind me of my Slippery Slope Publishing parody that included this.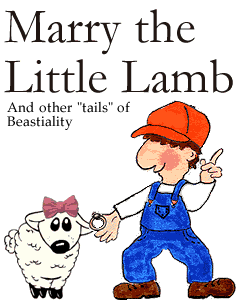 Marry the Little Lamb
Three enjoyable stories of people in wonderful committed relationships with barnyard animals. Here is a sample:
Marry the Little Lamb, Little Lamb, Little Lamb
Marry the Little Lamb and giver her a ring of gold.
And every where the Married went, Married went, Married went.
Every where the Married went, people learned not to stare.
After reading our version of Goldilocks and the three bears, the old version will never be the same.
Children will learn to put behind the stereotype that marriage is only between a man and a women.