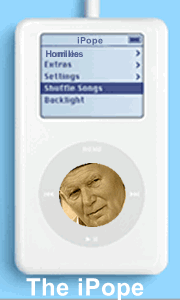 The pope's new 2-gigabyte digital audio player already was loaded with a sampling of the radio's programming in English, Italian and German and musical compositions by Ludwig van Beethoven, Wolfgang Amadeus Mozart, Frederic Chopin, Peter Ilich Tchaikovsky and Igor Stravinsky. The stainless steel back was engraved with the words "To His Holiness, Benedict XVI" in Italian.
Once the pope, who is also a pianist, gets the hang of the device's trademark click wheel, he will be able to listen to a special 20-minute feature produced by the radio's English program that highlights Mozart's life and music to commemorate the 250th anniversary of his birth.
The iPod also contains an English-language radio drama on the life of St. Thomas a Becket and a 10-minute feature on the creation of Vatican Radio, with original sound clips of the inventor of the radio, Guglielmo Marconi, and Vatican Radio's founder, Pope Pius XI.
The pope also can relive the historical papal transition of April 2005. On the player, the radio's German program included a mix of news and interviews done during the death of Pope John Paul II, the conclave and the election of Pope Benedict.


[Via Domenico Bettinelli]
I think the Pope needs a larger iPod then the Nano with much more space. I am sure he would rip his classical music CDs using the Apple Lossless encoder. He has worked hard to prevent a degradation of the faith and I am sure he would want his music the same way. He doesn't put up with Theology Harmonic distortion, so I am sure it is the same goes for his music.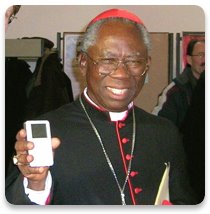 There is another reason the Pope should have a larger iPod. When he showed his Nano to Francis Cardinal Arinze, the Cardinal replied "Mine is bigger."
The iPope picture is from my Rome Depot parody.