Gillibrand finds what he dubs the Mickey Mouse tabernacle in of all places Rome.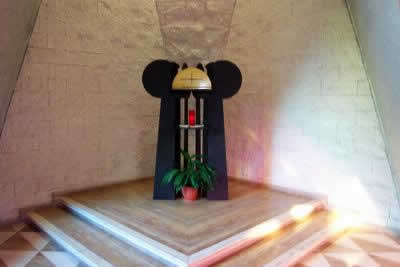 All together let us sing!
Who's the leader of the Church
That made you and me
J-E-S-U-S-C-H-R-I-S-T
Hey! there, Hi! there, Ho! there
You're as welcome as can be
J-E-S-U-S-C-H-R-I-S-T
Jesus Christ!
Jesus Christ!
Forever let us hold our banner
High! High! High! High!
Come along and sing a song
And join the jubilee!
J-E-S-U-S-C-H-R-I-S-T
It will not be of any surprise that the church it resides in the interior would work for the original Star Trek. Though the pyramid shaped outside would work find in Stargate as a church for the Ga'uld.
Gerald Augustinus also has a post with pictures on architecture. It is surprising that Catholics haven't developed more of bunker attitude considering that the bunker seems to be the inspiration for so many churches. In fact I wonder if we could borrow some bunker busters?